Every year, Cyber Hacktics and CyberUp organize a Capture-the-Flag (CTF) event in support of National Cyber Security Awareness Month. Competitors will play on teams of up to four players and must solve challenges relating to various cybersecurity categories.
DEADFACE CTF will be completely virtual and will take place during the following times and dates:
START
Friday, October 14th, 2022 at 9am CDT
(2022-10-14T14:00Z)
END
Saturday, October 15th, 2022 at 7pm
(2022-10-16T00:00Z)
The scoring server will open for public registration on Thursday, September 1st, 2022.
Check out our event on CTFtime.org!
Background
Our History
Cyber Hacktics and CyberUp have been hosting annual CTFs since 2016. Our events started as a local competition in the Southern Illinois and St. Louis area. In 2018, the CTF grew into a nationwide event in the United States. Since opening the competition to a global audience in 2020, DEADFACE CTF has averaged just shy of 3,000 players per year!
The Team
Hosting DEADFACE CTF is something we thoroughly enjoy, and it would not be possible without the generous help of our volunteers. The CTF is developed by a multitalented group of professionals from all kinds of backgrounds:
U.S. Military (Veterans and those currently serving)
Industry Professionals
Students
Hobbyists
The Story
One thing that distinguishes DEADFACE CTF from most other CTFs is our immersive storyline. The story we provide helps to provide cohesion between the challenges and tries to make the scenario more realistic than isolated "find the flag" kinds of challenges. Our goal is to create an event where we encourage players to ask why a flag needs to be found. Additionally, to align more closely to real-world situations, we want to provide a competition where challenges relate to one another and are needed to solve other challenges.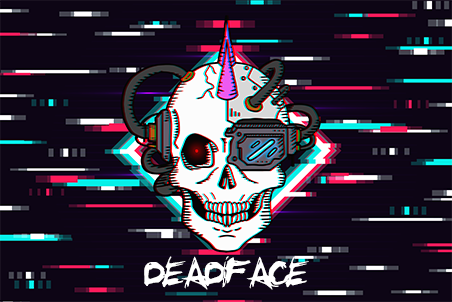 DEADFACE is a notorious hacker group who increase their activity particularly in October. They're all about theatrics and inciting fear. They employ a variety of different hackers, each with their own unique skillsets. One of the calling cards of DEADFACE is that they use a Halloween-themed naming convention for their attacks and artifacts left on their victims' machines.
The Competition
Who Can Play?
Anyone! Whether you're a seasoned professional or someone who has zero experience, this event has challenges for you! We don't believe in only providing challenges for experts - this CTF is a learning opportunity and our goal is to make sure that individuals at every experience level have a chance to score points.
We designed our challenges on a scale that would appeal to the broadest audience possible. Some of the challenges are easy and only require players to know how to search the internet. Other challenges require research, expertise, and experience.
The challenges for this event are broken down into various categories including:
Cryptography
Steganography
Traffic Analysis
Exploitation
OSINT
Programming
SQL
Prizes
Prizes for this year's event include cash prizes (for U.S. residents only). Cash prizes will be awarded to the first, second, and third place US-based teams.
Cash Prizes
| Ranking | Prize |
| --- | --- |
| First Place | $400 |
| Second Place | $200 |
| Third Place | $100 |
Digital Badges
In addition to prizes, players will be awarded badges through https://badgr.io.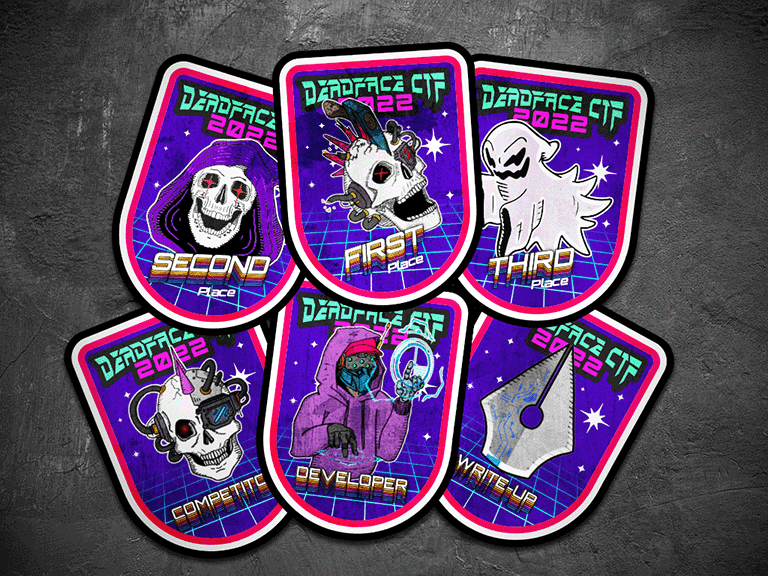 Sponsors
DEADFACE CTF would not be possible were it not for our generous sponsors who have contributed funds and prizes to ensure we have an amazing event this year!
Cerberus Sentinel

Cerberus Sentinel is focused on cybersecurity, compliance, and the culture that drives success, acquiring world-class engineering talent who utilize the latest technology to create innovative solutions to protect even the most demanding businesses and governments against continuing and emerging threats.
CyberUp

CyberUp is a national nonprofit organization committed to cultivating the cybersecurity talent pipeline for today and tomorrow. They help employers reimagine how they grow and scale their cybersecurity workforce.
Contact Us
If you have any questions about DEADFACE CTF, feel free to contact Cyber Hacktics at info@cyberhacktics.com or CyberUp at amber@wecyberup.org.
You can also follow Cyber Hacktics on social media!
We look forward to seeing you in the competition!